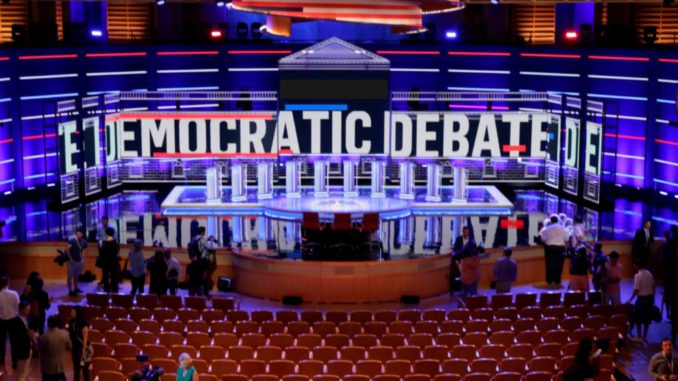 Time is quickly running out for candidates to qualify for the September Democratic debates. Candidates must receive at least 2% support in four DNC-approved polls conducted nationally or in the first four primary contests — Iowa, New Hampshire, South Carolina, and Nevada. Additionally, candidates must receive a total of 130,000 contributions from unique individuals and have at least 400 unique donors in at least twenty different states.
Recommended: Who has qualified for the October debate?
These stricter requirements are already narrowing down the field. Twenty candidates qualified for the June and July debates, leading to crowded stages on each night. In September, the field may be cut in half. Thus far, only nine candidates have qualified for the September debates, with a few other closing in on securing a spot.
Democrats Qualified For The September Debates
Former Vice President Joe Biden
Vermont Senator Bernie Sanders
Massachusetts Senator Elizabeth Warren
California Senator Kamala Harris
New Jersey Senator Cory Booker
Former Mayor Pete Buttigieg
Former Texas Representative Beto O'Rourke
Minnesota Senator Amy Klobuchar
Businessman Andrew Yang
Former HUD Secretary Julian Castro
Candidates Nearing Debate Qualification
Hawaii Representative Tulsi Gabbard: Reached donor threshold, one qualifying poll
Billionaire Tom Steyer: Three qualifying polls
Governor John Hickenlooper: One qualifying poll
October Debate Details
The debate is schedule for October 15, but a second night might be scheduled for October 16 since more than ten candidates have qualified. The debate is being cohosted by CNN and The New York Times.
Impact Of The Debates
The first two debates have shown that they can have a significant impact. Kamala Harris raised $2 million immediately following the first round of debates. Bernie Sanders raised $1.1 million following the second round of debates, aided in part by a "I wrote the damn bill!" sticker promotion.
A poor debate can also have a negative impact on a campaign too. Senator Harris has seen her poll numbers plummet following an exchange she had with Hawaii Representative Tulsi Gabbard over Harris's prosecutorial record.
Who do you think will qualify for the debates? Leave a comment below!