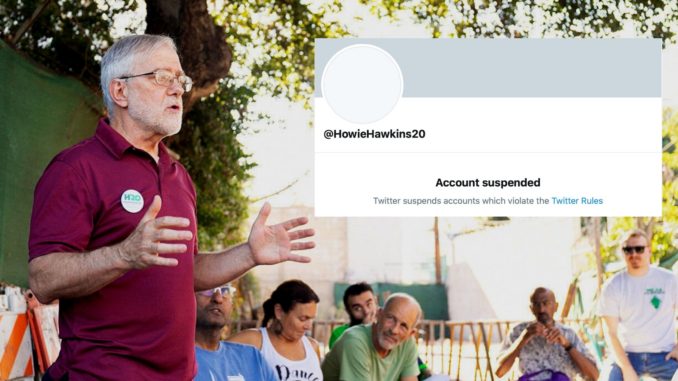 Green Party Presidential candidate Howie Hawkins had his campaign's Twitter account suspended on Thursday.
The reason? Impersonation.
Twitter has strict guidelines about impersonating other people, especially prominent figures like politicians. However, the rule seems to have been improperly applied. The account banned for impersonating Hawkins (@HowieHawkins20) was in fact his campaign's account.
Hawkins took to his personal Twitter account to let his followers know what had happened:
FYI: Twitter has suspended our presidential account at @howiehawkins20, so we're communicating solely from this account for the moment. We are not sure if @twitter will accept our appeal. Stay tuned!

— Howie Hawkins (@HowieHawkins) April 17, 2020
The Hawkins campaign also sent out a press release stating that he has no way of appealing the decision.
Twitter has an inconsistent track record when it comes to politicians who violate its terms of service. President Donald Trump has routinely violated the terms of service, so much so that Senator Kamala Harris tried to get the President suspended from Twitter during her Presidential campaign.
Florida Senator Marco Rubio appeared to violate the terms of service by posting a picture of Muammar al-Gaddafi's assassination, but was not punished by Twitter.
Former Vice President and presumptive Democratic Party nominee Joe Biden was fortunate to avoid punishment from Twitter after spreading false information about COVID-19.
Biden implied people who felt healthy and asymptomatic were not at risk of being exposed to coronavirus. This is simply not true. Many carriers of COVID-19 don't show any symptoms.
The right to vote is the most sacred American right there is. State election officials are working closely with public health officials to hold safe elections. If you are feeling healthy, not showing symptoms, and not at risk of being exposed to COVID-19: please vote on Tuesday.

— Joe Biden (@JoeBiden) March 15, 2020
Three days later, Twitter updated its terms of service, saying that they'd remove any tweets that put people at a greater risk of contracting coronavirus.
Hawkins says that he has contacted Twitter support to reverse the termination. At the time this article was published, @HowieHawkins20 has not been reinstated.