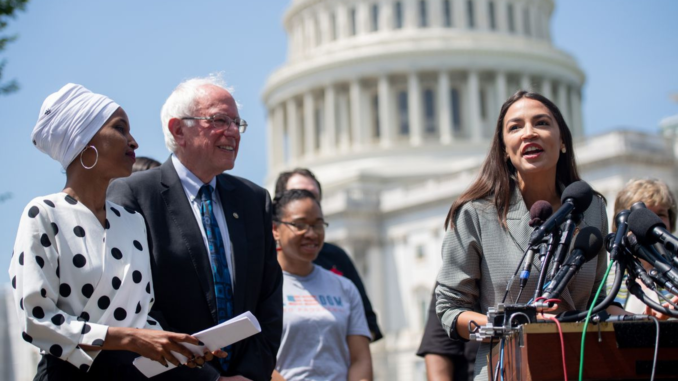 Immediately following the October Democratic debate, the Sanders campaign announced it had received endorsements from New York Representative Alexandria Ocasio-Cortez and Minnesota Representative Ilhan Omar.
Sanders will also be touring Representative Rashida Tlaib's Congressional district in Michigan later this month. It is expected that she will endorse Sanders as well.
Related: Daily Wire Falsely Reports AOC Is Endorsing Warren
Ocasio-Cortez, Omar, and Tlaib make up three of the four members of "The Squad," a group of young, progressive women of color. Massachusetts Representative Ayanna Pressley, the fourth member of The Squad, was the only member of The Squad not involved Sanders endorsement speculation.
In her endorsement, Omar cited Sanders's leadership on movement building, cancelling medical debt, and supporting universal free lunch at public schools. The Sanders campaign says that Ocasio-Cortez made her decision to endorse the Vermont Senator shortly after his heart attack.
Earlier in the primary cycle, Sanders received endorsements from the Cori Bush, Amy Vilela, and Paula Jean Swearingen. The three women starred in the Netflix documentary Knock Down The House, which followed their progressive campaigns for Congress. The film also documented Ocasio-Cortez's campaign.
Sema Hernandez, a progressive candidate for Senate in Texas, has also endorsed Sanders for President.
In response to the October endorsements, CNN's John King questioned whether or not the Sanders campaign was "too urban," which received immediate pushback from those who interpreted the comment as a racist dog whistle.
Sanders is set to appear with Alexandria Ocasio-Cortez at a rally in Queens, New York on October 19.
Do you think these endorsements will give the Sanders campaign a boost? Leave a comment below!