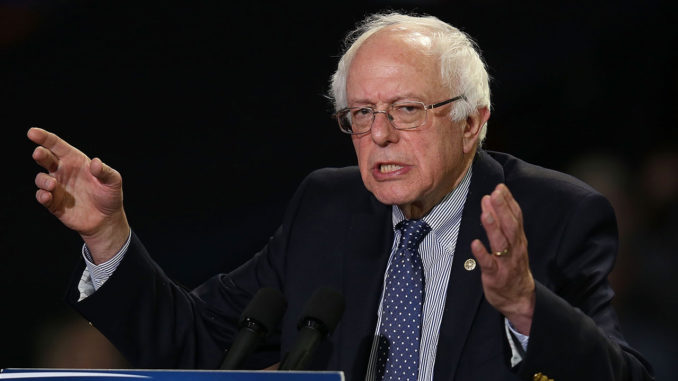 Just a day after the Sanders campaign announced a mammoth Q3 fundraising total, they sent out a concerning press release. Sanders was admitted to the hospital after experiencing chest discomfort and had two stents inserted to heal a clogged artery. The procedure was a success, and Sanders tweeted out that he was feeling well while emphasizing the importance of passing Medicare For All, his signature bill.
Thanks for all the well wishes. I'm feeling good. I'm fortunate to have good health care and great doctors and nurses helping me to recover.

None of us know when a medical emergency might affect us. And no one should fear going bankrupt if it occurs. Medicare for All!

— Bernie Sanders (@BernieSanders) October 2, 2019
Many of the other Democrats running for President sent Sanders positive messages while #GetWellBernie trended on Twitter. The Warren campaign sent lunch to Sanders staffers.
The news of the procedure put the future of the Sanders campaign in question. The campaign quickly cancelled its $1.3 million Iowa ad buy and cancelled all upcoming events.
Medically, it appears Sanders will be fine. Speaking to Politico, one cardiologist stated, "Unless I'm missing something dramatic, he should be in the hospital one or two days, and he should be fine."
Dr. Sanjay Gupta said that the operation wasn't intense, and Sanders should have a quick recovery time.
Important context on the @BernieSanders health situation from @drsanjaygupta. He makes it clear that Sanders did NOT have open heart surgery. The lack of an intense operation means the recovery could be much quicker. Gupta explains the reality of the recovery time here: pic.twitter.com/DfrSvU5zv4

— Ryan Nobles (@ryanobles) October 2, 2019
From a media optics perspective, this is a disaster for Sanders. He's the oldest candidate in the race and he received some scrutiny for his hoarse voice at the third Democratic debate. Instead of discussing his record-breaking fundraisers numbers, the media is now discussing Sanders's physical fitness.
Where will the Sanders campaign go from here? It's tough to tell. If Sanders is in good health, we'll probably see him continue to campaign. It's unlikely we'll get a final decision in the next 24–48 hours, according to CNN correspondent Ryan Nobles.
Jane O'Meara Sanders, Bernie's wife, traveled to Las Vegas to meet with her husband.
Sanders left the hospital on Friday, October 4. The campaign confirmed that Sanders suffered a heart attack. He was recently spotted walking around his neighborhood in Burlington, Vermont.
What do you think the Sanders campaign should do next?