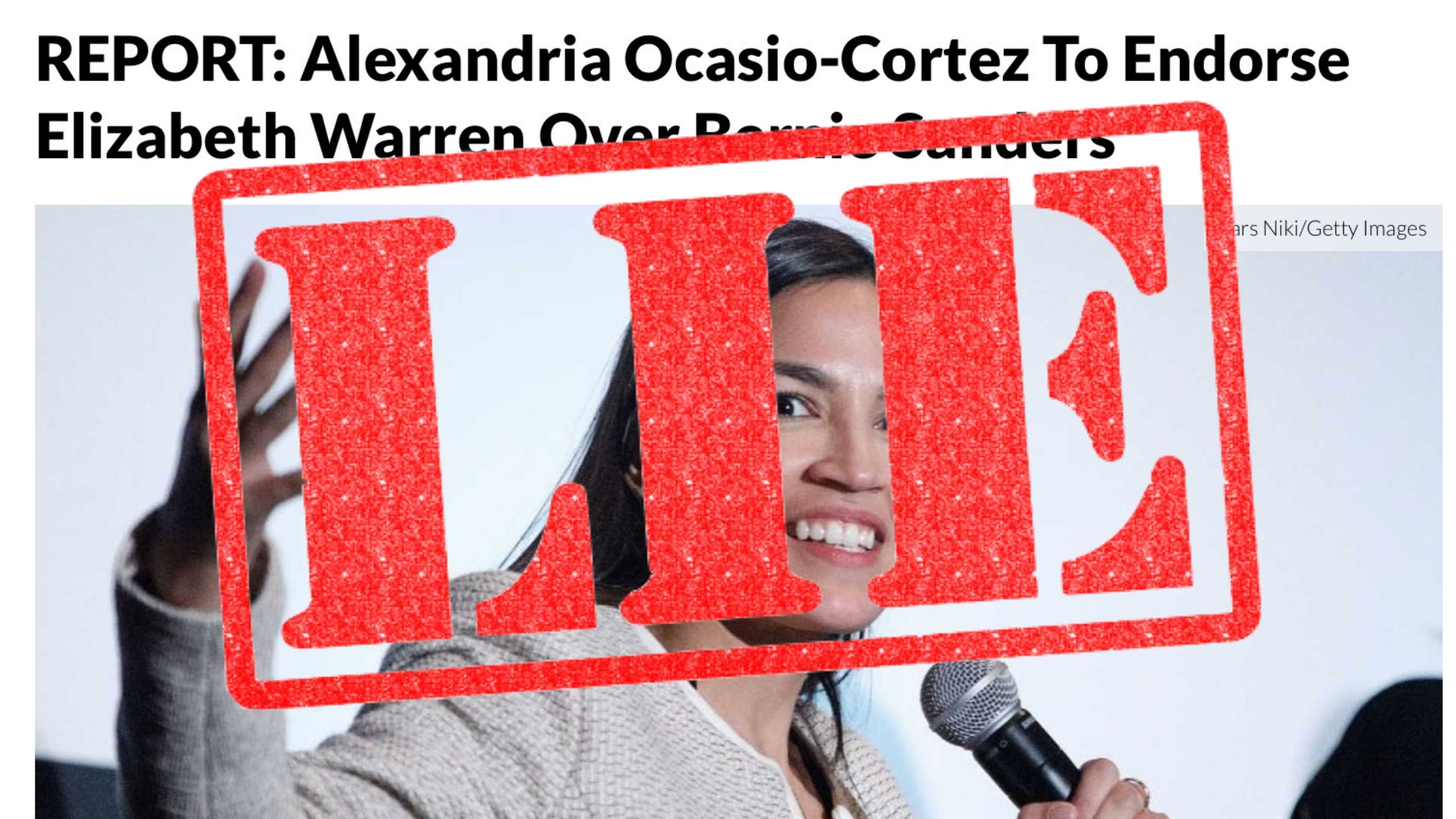 A recent article from The Daily Wire, a conservative news website founded by Ben Shapiro, sent Democrats into a frenzy. The report stated that Democratic Representative Alexandria Ocasio-Cortez would not be endorsing Senator Bernie Sanders and was instead considering endorsing Senator Elizabeth Warren.
The Daily Wire's report was based on speculative op-ed published in Washington Examiner, another conservative media outlet. This article, titled "Warren poised to break out, AOC endorsement could derail Sanders", was nothing more than a bit of speculation following a video featuring Ocasio-Cortez and Warren as they discussed Game Of Thrones spoilers and a plan to go after Steve Mnuchin, President Donald Trump's Secretary of the Treasury.
The article from Washington Examiner does cite one "Warren watcher" (whatever that means), who said, "The AOC endorsement could be the coup d'état for the heart and soul of the restless left wing base Warren is courting."
I'd agree — if Ocasio-Cortez endorsed Warren, it could derail Sanders's campaign.
There's only one problem — Ocasio-Cortez isn't endorsing Warren, or even Sanders for that matter. On Twitter, Ocasio-Cortez stated plainly, "I'm not endorsing for some time."
Yeah I don't know why people are suddenly trusting alt-right outlets with "scoops" on who I'm endorsing.

Let's use our reading skills. Context clues. If they haven't ever reported about me honestly & in good faith, why would they start now?

I'm not endorsing for some time. https://t.co/PzrsDwBJKd

— Alexandria Ocasio-Cortez (@AOC) May 31, 2019
The article in the Washington Examiner failed to note that earlier in May, Sanders and Ocasio-Cortez appeared together to introduce a plan to cap credit card interest rates at 15%.
And, if working with Ocasio-Cortez on new legislation is evidence that she's going to make an endorsement, we'll no doubt see Ocasio-Cortez endorse Senator Ted Cruz in upcoming elections.
You're on. https://t.co/S3TBfNeO3Q

— Ted Cruz (@tedcruz) May 30, 2019
However, all this didn't stop the story from being widely shared. One tweet on the story was retweeted more than 2,200 times and was favorited more than 8,600 times.
REPORT: Alexandria Ocasio-Cortez to Endorse Elizabeth Warren Over Bernie Sanders #Topbuzz https://t.co/QwQFXijhCV

— Clarence Mack (@ClarenceMack3) May 30, 2019
Clearly, The Daily Wire's story was a success. They were able to lie about Ocasio-Cortez while simultaneously driving a wedge between progressives.
The Daily Wire still has not issued a correction.