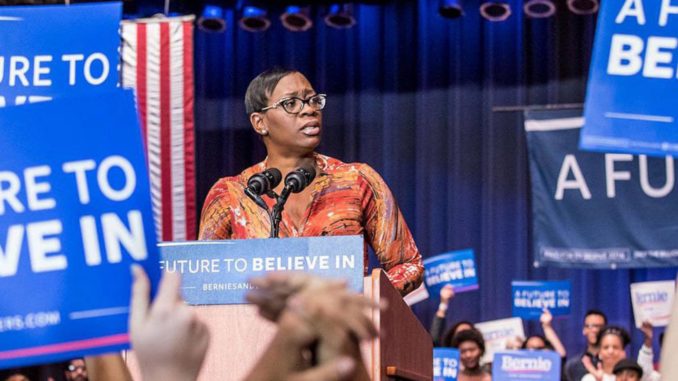 Armando Llorens, a contributing editor for Daily Kos, is under fire after posting several tweets smearing Nina Turner, a Bernie Sanders campaign co-chair. Llorens sent multiple tweets on August 20 calling Turner "f—ing stupid". The most egregious tweet alleged that Bernie Sanders is paying Turner to have sex with him.
Update: Daily Kos has parted ways with Armando Llorens. He no longer appears on the Daily Kos staff page.
Turner, who was a key surrogate for Sanders in 2016, can regularly be seen with Bernie Sanders at campaign events.
Llorens's tweets have since been deleted, but that didn't stop Twitter user @QueenInYellow from taking screenshots and reposting them.
Editor at Daily Kos 👇 pic.twitter.com/CkR5lkKREp

— DSA Otherkin Caucus ❼ (@QueenInYeIIow) August 21, 2019
@QueenInYellow's tweet was then amplified by Shaun King, a Bernie Sanders campaign surrogate who recently launched an organization working to flip the Senate to Democratic control.
Many Sanders supporters are now calling on Markos Moulistas, the Founder of Daily Kos, to fire Llorens. Llorens had appeared on the Daily Kos staff page, where he is described as a "mild manner lawyer" who writes about a variety of topics including the US Constitution, the Supreme Court, politics, and foreign policy.
Sanders's Press Secretary, Brian Joy Gray, stated that the tweets were an example of "media bias" against Sanders.
Moulistas occasionally appears on MSNBC and it's unclear whether or not Llorens's comments will jeopardize his ability to do so in the future.
Sanders Supporters vs. Daily Kos
Bernie Sanders supporters have a complicated relationship with Daily Kos. In 2015 and 2016, Sanders regularly won the site's biweekly straw poll by incredibly large margins. Despite these victories, Daily Kos didn't endorse Sanders.
By March, the website endorsed Hillary Clinton in an effort to shift focus towards the general election. Around the same, Daily Kos began banning users who posted criticism not deemed "constructive." As a result, many Sanders supporters left the site.
As 2019 rolled around, Daily Kos began conducting straw polls again. After Sanders didn't win a February straw poll, Moulistas commented, "It's painfully clear he doesn't realize it, but he's not winning shit this cycle."
Recent polls show Sanders leading the field in Colorado and New Hampshire. Sanders's strength as a candidate is really on display in Texas, where he leads President Donald Trump by a larger margin than any other Democrat. The winner of the February 4 straw poll, Kamala Harris, has seen her poll numbers sink since the second Democratic debate.
On March 4, Daily Kos posted another straw poll. Sanders won the poll with more than 50% of the vote. Moulistas accused Sanders supporters of cheating by voting multiple times. However, he never provided evidence to support this claim.
For the record, I did find evidence of people casting multiple votes — for "anybody but Bernie." User "Dave in Arizona" stated that he cast four votes, spreading them around among candidates not named Bernie Sanders. Dave in Arizona also told others how they could manipulate the results by voting multiple times.
In July, Moulistas accused Sanders of being "afraid" of him, citing that Sanders was skipping the Netroots Nation conference where, Moulistas would be moderating forums with the Presidential candidates in attendance. Moulistas did not make similar accusations about Joe Biden, Pete Buttigieg, or Kamala Harris, all of whom also skipped the conference as well.
As reported by Daily Beast, Sanders had a scheduling conflict. The Sanders campaign said that the moderators "were not a dealbreaker."
A request for comment from Moulistas has gone unanswered. I would ask Llorens for a comment, but he has blocked me on Twitter.
What do you think about Daily Kos ending its relationship with Llorens? Leave a comment below!