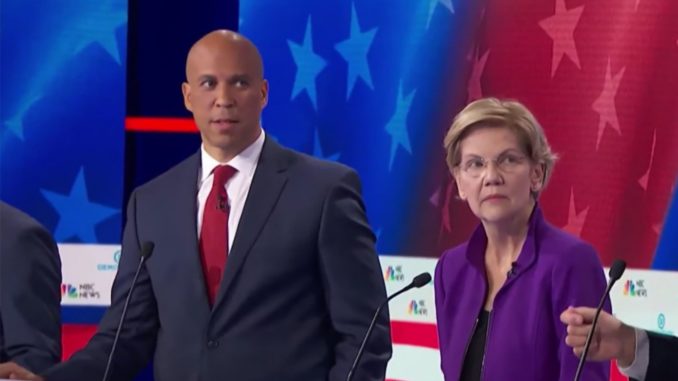 Joe Biden is currently the Democratic frontrunner, leading nationally by more than ten percent. But Biden is also leading by a less desirable metric — gaffes. Below, I've kept track of some of Joe Biden's gaffes during his Presidential campaign.
Mixing Up Margaret Thatcher And Theresa May
On more than one occasion, Joe Biden has mixed up Margaret Thatcher and Theresa May.
For clarity's sake:
Margaret Thatcher served as Prime Minister of the United Kingdom from 1979–1990. She passed away in 2013.
Theresa May served as Prime Minister of the United Kingdom from 2016–2019. She resigned on May 24, 2019.
Biden first mixed the two up at a fundraising event on May 4, 2019. He was speaking to supporters about hearing from leaders around the world, including Thatcher, who voiced their concerns about President Trump.
According to CNN reporter Daniel Dale, Biden did it again at event on August 8, 2019.
Biden referred to Theresa May as "Margaret Thatcher" tonight, the second time he's done that since May.

— Daniel Dale (@ddale8) August 9, 2019
"I bet you're as bright as you are good looking."
Former Vice President Biden said this in a response to a question asked by a young girl at an event in May.
This statement came after allegations were made by women who said that Biden had touched them inappropriately.
Biden later made light of the entire situation at a June event.
After bringing a chair over to a woman so she could sit, she whispered something in his ear for some time. When the moment ended, Biden told the crowd "We have a little secret going here" before pointing out to the press that "she pulled me close," not the other way around. pic.twitter.com/1RBSAwCfuC

— Marianna Sotomayor (@MariannaNBCNews) June 4, 2019
"Go To Joe 30330"
In his closing statement at the July Democratic debates, Biden ended his statement by asking viewers to go to Joe 30330.
The mistake here? He was probably supposed to tell viewers to text Joe to 30330 and get new phone numbers onto his list. That didn't stop Josh Fayer, who has launched his own exploratory committee for President, from purchasing the domain joe30330.com (he beat me to it!).
Naming The Wrong Cities In The Wake Of Mass Shootings
Donald Trump wasn't the only politician to name the incorrect cities in the wake of two horrific mass shootings.
The first mass shooting was carried out in El Paso, Texas on August 3. Less than 24 hours later, another mass shooting was carried out in Dayton, Ohio.
(If you want to help combat gun violence, consider making a contribution to Giffords.)
In the wake of these tragedies, President Donald Trump offered his prayers for "those who perished in Toledo".
When speaking about gun violence in the United States, Biden referenced "the tragic events in Houston today and also in Michigan the day before". The former Vice President corrected himself shortly after.
"Poor kids are just as bright and just as talented as white kids."
This gaffe was especially painful to watch when you consider the amount of scrutiny Biden has already received for making controversial statements about working with segregationists.
At an event in Iowa on August 8, 2019, Biden stated, "Poor kids are just as bright and just as talented as white kids."
Biden quickly realized his mistake and awkwardly continued with, "Wealthy kids, black kids, Asian kids…"
"Poor kids are just as bright and just as talented as white kids."
Joe "Woke AF" Biden pic.twitter.com/0J2KK4mY1Z

— Nate's Liver 🍩 (@SilERabbit) August 9, 2019
"We choose truth over facts."
Watch the video — it speaks for itself. What's more shocking is the applause that follows the line.
Biden: "We choose unity over division, we choose science over fiction, we choose truth over facts" https://t.co/I2zykTfr8m pic.twitter.com/PUDbUlH4tN

— CBS News (@CBSNews) August 8, 2019
I'll continue to update this article over the course of the 2020 campaign.
Have I missed anything? What do you think of Joe Biden's gaffes? Leave a comment below!
---
I embedded plenty of tweets in this article, and I'm sure I'll add more as the gaffes continue. The use of an account's tweet is not an endorsement of the individual or group who posted the tweet.