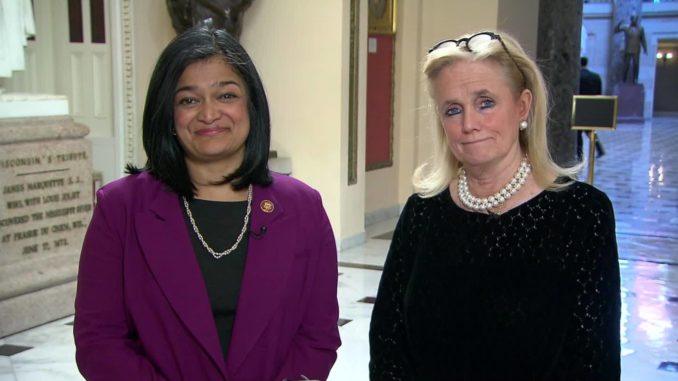 Representatives Pramila Jayapal (D–WA) and Debbie Dingell (D–MI) penned a letter to President Trump urging him to implement the Medicare For All Act of 2019. Jayapal and Dingell are the lead sponsors of the Act and co-chair the Medicare For All Caucus.
The letter was sent in response to the Trump Administration's plan to reimburse hospitals for treating uninsured coronavirus patients. In the letter, Jayapal and Dingell requested a virtual meeting with the President to discuss ways to expand Medicare and Medicaid coverage to all uninsured Americans, not just those being treated for coronavirus.
The two House Representatives highlighted the absurd medical bills some patients have already received. One uninsured woman received a $34,927.43 bill after being treated for COVID-19.
The move comes at a time when millions of Americans are being laid off due to the COVID-19 outbreak. The St. Louis Federal Reserve projects 47 million Americans may lose their jobs as a result of this global pandemic. This could result in tens of millions losing their health insurance, as approximately 56% of Americans get insurance through their employer.
Recent polling suggests that support for Medicare For All has increased since the coronavirus outbreak began. According to a poll conducted by Morning Consult, support for Medicare For All has hit a nine-month high. Even among Republicans, who are generally opposed to the idea of socialized medicine, support for Medicare For All is up 7%.
The Trump Administration has yet to respond to the request for a virtual meeting.
You can read the full letter here.