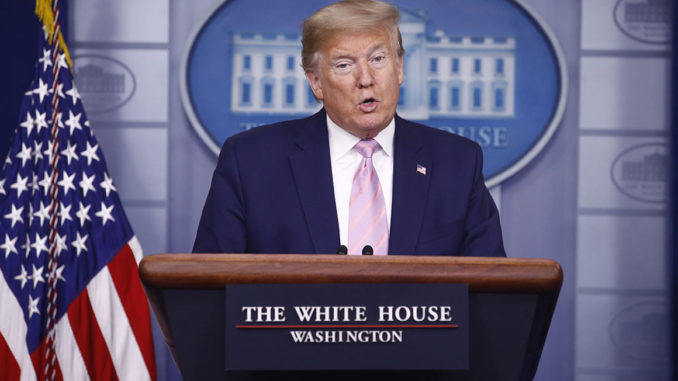 The ongoing disaster that is the White House's daily coronavirus press briefing reached a new low today when Steven Nelson of the New York Post asked President Donald Trump whether or not he would pardon Joe Exotic, the subject of the popular Netflix series Tiger King. The question was prompted by a recent statement from Donald Trump Jr., who joked that he'd lobby for a pardon for Joe Exotic.
Nelson asked:
"One of the biggest rating hits of the coronavirus, aside from these briefings, has been a show on Netflix called Tiger King, and the man who is the star of this is a former zoo owner who is serving a 22-year prison sentence. He's asking you for a pardon, saying he was unfairly convicted. Your son, yesterday, jokingly said, you know, he was going to advocate for it and I was wondering if you'd seen the show and if you have any thoughts about pardoning Joe Exotic?"
Trump responded:
"Which son? Must be Don. I had a feeling it was Don. Is that what he said?"
The President went on to ask Nelson and at least one other reporter in the room if they would recommend pardoning Exotic Joe. The reporters said that they wouldn't take a position.
Trump concluded by saying that he'd "take a look" at pardoning the Netflix star.
The exchange was emblematic of New York Post "journalism" — clickbait content designed to catch eyeballs and make money rather than inform the public.
Coronavirus press briefings should be used to provide updates on the situation and inform the public about what the Administration is doing to prevent this pandemic from spreading further.
Unfortunately, it appears the Trump Administration doesn't have a serious plan to stop the spread of COVID-19. Based on the recent election debacle in Wisconsin, it's clear that the GOP doesn't care if the pandemic spreads, so long as it spreading is politically expedient.
Watch the full exchange between Nelson and President Trump: