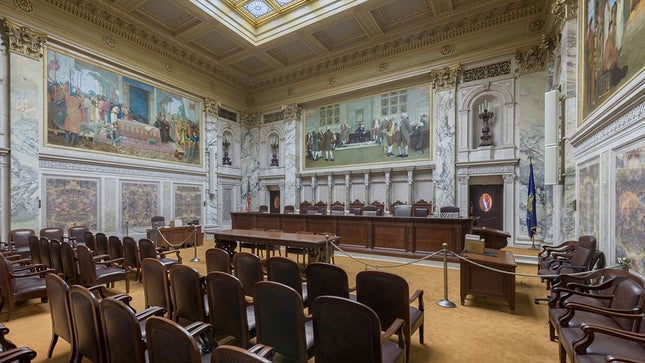 Wisconsin is set to hold in-person voting on April 7. Much of the national focus is on the Democratic primary between Joe Biden and Bernie Sanders. However, Wisconsin Republicans have their eyes on something else: a State Supreme Court seat.
Judge Daniel Kelly, who was appointed by former Governor Scott Walker, is facing Jill Karofsky, a more liberal judge who has the support of progressive Democrats including Bernie Sanders. Kelly has been endorsed by President Donald Trump.
Akela Lacy of The Intercept reports that a Karofsky victory could pave the way for a liberal majority on Wisconsin's Supreme Court. Republicans currently hold a 5–2 majority.
It's this election that's making the Wisconsin GOP plow forward with tomorrow's elections. Shortly after Governor Tony Evers issued an executive order postponing the elections until June 9, the Wisconsin Supreme Court voted 4–2 to overturn the order. Judge Kelly did not vote.
If this election proceeds, it should be considered illegitimate.
Concerns about coronavirus have caused a massive shortage of poll workers. The number of voting sites has been drastically reduced, which will make it difficult for Wisconsin residents to follow the social distancing guidelines put forward by the Center for Disease Control (CDC).
Some of the most staggering reductions include:
In mid-March, Wisconsin election officials warned they didn't have enough cleaning supplies to safely run the elections on April 7. It isn't clear whether or not they'll have those resources ready for tomorrow. There are reports that some counties aren't receiving plastic screens to serve as a barrier between election officials and voters.
The Wisconsin GOP has also been working to suppress absentee voting. The Republican National Committee and the Wisconsin GOP called on the Supreme Court to reverse a lower court decision that extended the state's deadline for submitting mail-in ballots.
They were successful. In a 5–4 decision, the Supreme Court reversed the lower court's decision. Mark Joseph Stern of Slate called the decision "one of the most brazen acts of voter suppression in modern times" which will suppress tens of thousands of votes.
Wisconsin will also refuse to count absentee ballots without a witness signature, even if those ballots were mailed in when a witness signature wasn't required.
One of the lesser discussed aspects of the coronavirus outbreak is the disproportionately large number of African American deaths from the virus. In Milwaukee, COVID-19 deaths are concentrated in the city's African American communities.
African Americans account for 81% of COVID-19 deaths in Milwaukee County, but only 26% of the county's population. Similar trends can be seen in black communities across the country.
Wisconsin should learn from Florida's mistakes. Despite coronavirus concerns, Florida proceeded with elections on March 17. Since then, at least three Florida poll workers have tested positive for coronavirus.
If Wisconsin holds elections tomorrow, people will contract COVID-19. Some will die. A disproportionate number of them will be African American.
How many people is the Wisconsin Republican Party willing to kill to hold onto a single State Supreme Court seat? We'll find out soon.