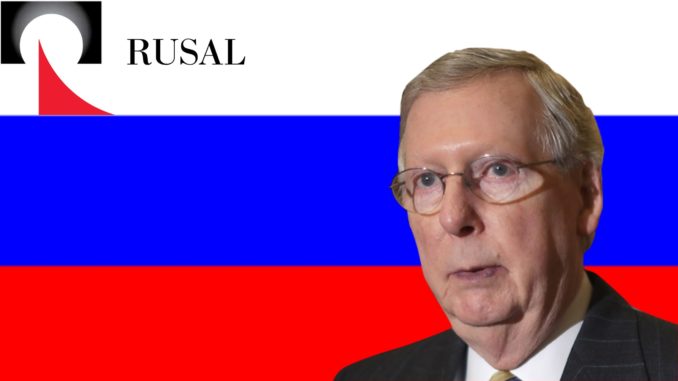 Senate Majority Leader Mitch McConnell (R–KY) has historically been able to brush off harsh criticism from the left. However, it appears that liberals have finally found something that gets under his skin: Moscow Mitch.
For whatever reason, he can't stand the nickname. McConnell was recently interviewed by conservative radio talk show host Hugh Hewitt. In the interview, McConnell said that calling him "Moscow Mitch" is "over the top."
I disagree. McConnell has blocked votes on election security bills in the wake of Russian interference in the 2016 elections. Former McConnell staffers lobbied Congress and the US Treasury Department to support the development of a Rusal-backed aluminum mill in Kentucky. The Russia-based Rusal, the second largest aluminum company in the world in terms of of primary production output, was only able to take part in the deal because of a Republican-led effort to ease sanctions on Oleg Deripaska, the Russian oligarch who owns Rusal (and many other companies).
During the #MoscowMitch saga, there have been a number of mass shootings in the United States, most recently in Odessa, Texas. Mass shootings also recently occurred in Dayton, Ohio and El Paso, Texas.
The response from McConnell? Crickets. Despite pressure from Senate Democrats including Bernie Sanders and Kamala Harris, McConnell has refused to reconvene the Senate to vote on H.R. 8, a bill that would establish new background check requirements for firearm sales. The Senate Majority Leader has explicitly stated that he won't call a vote on any gun bill that President Trump won't sign.
So — the fate of increased gun control now lies in the hands of President Donald Trump.
The bottom line: McConnell is more upset about powerless Twitter users sharing #MoscowMitch than he is about dozens of innocent people being slaughtered in the United States. He has the power to do something about gun violence, yet he refuses to do so.