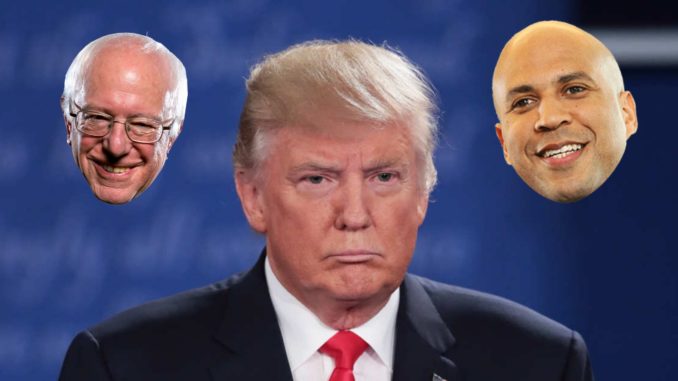 Utah has historically been a deep red state. The Democratic Party candidate for President hasn't won Utah since 1964. However, new polling suggests that Utah could turn blue in 2020.
A poll conducted by Y2 Analytics, which received a B rating from 538, shows that Senator Cory Booker (D–NJ) and Senator Bernie Sanders (I–VT) are leading Donald Trump in Utah.
Booker holds a 43–31 lead, while Sanders beats Trump 44–38. Joe Biden and Elizabeth Warren also look like formidable candidates, as they only trail Trump by 1% and 3% respectively. Overall, Trump holds a 40–35 lead over a generic Democratic candidate. Another 15% say they'll vote third party.
The poll has an overall margin of error of 3.1%. Individual candidate matchups versus Trump had a 7.9–8.3% margin of error, which is very large. Additionally, the sample sizes were quite small, ranging from 140–153 per candidate.
However, the overall numbers show that Trump is vulnerable to a strong Democratic candidate. A meager 5% lead in a state that should be safe for Republicans is an encouraging sign for Democrats.
Trump struggled to win over Utah voters in 2016, only managing to receive 45.5% of the vote. To give you some perspective — Mitt Romney won 72.8% of the Utah vote in 2012.
In 2016, Hillary Clinton received 27.8% of the vote, while third party candidate Evan McMullin won 21%. In the absence of a strong third party candidate, it is conceivable that a Democratic candidate could win a significant portion of McMullin's 2016 vote share.
Why? Trump's approval rating among Utah voters is plummeting. 53% of Utah residents disapprove of Trump's job performance, including 44% who say they strongly disapprove. The same 2019 poll found that only 44% approve of Trump's performance, and only 25% strongly approve.
Do you think Utah will turn blue in 2020? Leave your thoughts in the comments section below!