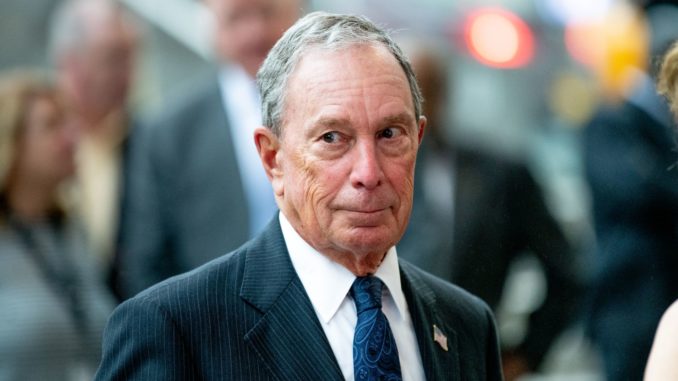 Billionaire and former New York City Mayor Michael Bloomberg officially entered the 2020 Democratic primary earlier this week when filing for ballot access in Alabama. Bloomberg's entry in the race is seen as a sign that the more moderate wing of the Democratic Party is growing concerned about the possibility Bernie Sanders or Elizabeth Warren winning the nomination.
However, early polls suggest the Bloomberg doesn't have a strong enough base of support to have a significant impact on the race. A Morning Consult poll found that Bloomberg is more disliked by 25% of Democratic primary voters, more than any other candidate. That same poll showed Bloomberg at 4% nationally, putting him well behind Biden (31%), Sanders (20%), and Warren (18%).
A Reuters/Ipsos poll found Bloomberg polling at 3% nationally. Sanders and Biden each polled at 19%.
It's difficult to gauge how serious of a candidate Bloomberg is considering that he's skipping the first four primary states — Iowa, New Hampshire, Nevada, and South Carolina — which are crucial to winning the nomination. By then, it's more likely than not that the Democratic Party establishment will have coalesced behind one candidate.
However, Bloomberg may be able to help the eventual Democratic nominee by focusing on an anti-Trump message. He plans to spend $100 million on an anti-Trump advertising campaign in Michigan, Wisconsin, Pennsylvania, and Arizona. Flipping three of these four states will be crucial to a victory in the General Election versus Trump, regardless of which candidate the Democratic Party nominates.
Bloomberg also provides an excellent foil for Sanders and Warren, who have railed against billionaires throughout the Democratic primary. Both candidates are proposing a wealth tax that would affect Bloomberg directly.
Sanders didn't hesitate to jab at Bloomberg. At an event in Iowa, Sanders said, "Sorry, you ain't gonna buy this election."
It's unclear whether Bloomberg will qualify for a debate, but it's rather unlikely as the DNC continues to set stricter qualifications for making the stage.
Do you think Michael Bloomberg will have a significant impact on the Democratic primary? Leave a comment below and let me know!