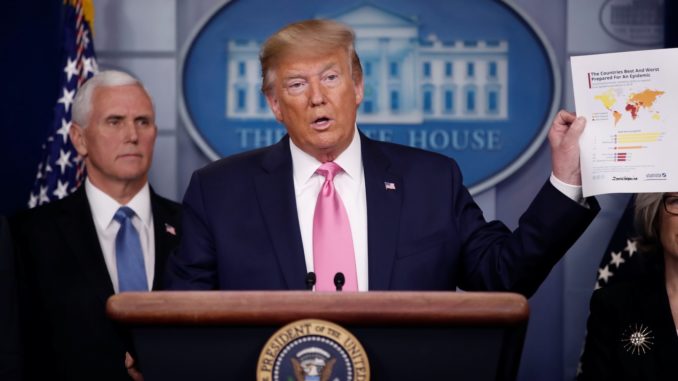 Multiple members of the Trump family have been in close contact with people who have tested positive for coronavirus. None of them seem to be taking it very seriously.
In early March, Ivanka Trump met with Peter Dutton, Australia's Minister of Home Affairs. Less than a week later, Dutton tested positive for coronavirus. Ivanka Trump has said she won't self-quarantine.
Yesterday 🇦🇺 Home Affairs @PeterDutton_MP joins @IvankaTrump, Attorney General Barr & our five eyes partners 🇺🇸🇬🇧🇨🇦🇳🇿 to fight online child exploitation. We heard from 9 brave survivors & announced principles that technology companies should implement to protect children online pic.twitter.com/3ifeJnGJPI

— Australia in the US 🇦🇺🇺🇸 (@AusintheUS) March 6, 2020
Ivanka Trump, her husband Jared Kushner, and President Donald Trump were all seated at a table with Brazil's Charge d'Affaires Ambassador to the United States, Nestor Forster. Forster tested positive for coronavirus shortly after the dinner.
Jair Bolsonaro's communications secretary, Fabio Wajngarten, tested positive for coronavirus shortly after posing with President Trump in a picture.
President Trump was also seen shaking the hand of Congressman Doug Collins, who decided to self-quarantine after a CPAC attendee tested positive for coronavirus.
Doug Collins, who has self-quarantined, greeting Trump in Georgia last week (AFTER CPAC) pic.twitter.com/EY0qeVIIHe

— Sam Stein (@samstein) March 9, 2020
After initially saying that President Trump didn't need to be tested or self-quarantine, White House Physican Sean Conley claims that the President has tested negative for coronavirus. It's unclear whether or not the President will be retested for COVID-19.
It also wouldn't be unreasonable to speculate that First Lady Melania Trump has contracted coronavirus. Sophie Grégoire Trudeau, wife of Canada's Prime Minister, and Doña Begoña Gómez, wife of Spain's Prime Minister, both tested positive.
President Trump has been roundly criticized for his response to the coronavirus outbreak. He immediately downplayed the threat, stating that it wouldn't be as bad as public health officials had predicted. The President has quickly changed his tune and made several contradictory statements, as outlined by the Washington Post.
Now that the threat is apparent to even the most steadfast skeptics, the federal government has taken action. The President ordered the Department of Housing and Urban Development to immediately suspend evictions and foreclosures. He also signed the Families First Coronavirus Response Act into law, which has provisions for free testing, paid sick leave, and increased unemployment benefit, among other things.
There's now a debate over whether or not to bailout industries most affected by coronavirus and send checks to American citizens to make up for lost wages and unemployment. The debate is expected to play out over the next week.
---
Please visit the CDC's website to learn what you can do to stop the spread of coronavirus.